Skedaddle Lanes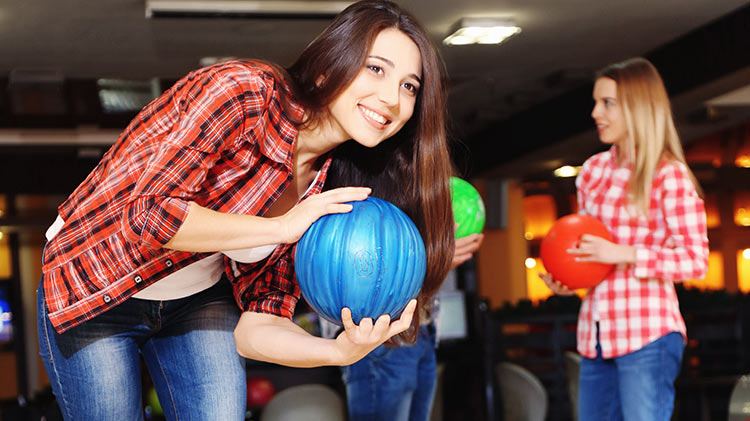 We're the perfect place for entertainment and family fun!
Knock down some pins during your lunch hour or after a hard day's work. We offer the ultimate bowling experience, whether it's casual, competitive bowling, leagues or family fun. Our center has 6 lanes with modern, flat-screen scoring.
Hungry?
Grab a bite to eat at the Snack Bar. Enjoy delicious pizza, nachos, burgers, sandwiches, fries, salads and more.
Snack Bar Menu
Salads
Dressing choices: Ranch, Thousand Island, Italian balsamic & French
| | |
| --- | --- |
| Item | Price |
| Side Salad - Lettuce, tomato, onion, cheese | $4 |
| Chef - Ham, turkey, shredded cheese, hard-boiled eggs, shredded carrots, cucumber, black olives, lettuce, tomato, onion, celery, bell peppers | $8 |
| House - lettuce, tomato, onion, celery, shredded cheese, shredded carrots, cucumber, bell peppers, black olives | $7 |
| Grilled Chicken - Grilled chicken breast, shredded cheese, cucumber, lettuce, tomato, onion, black olives, bell peppers, celery, | $8 |

Sandwiches

| | |
| --- | --- |
| Item | Price |
| Grilled Cheese (add turkey or ham for an extra $1.00 per slice) | $5 |
| The Reno Club - Ham, turkey, bacon, Cheddar and Swiss cheese, lettuce, tomato & 3 slices of toasted bread | $8 |
| Ham or Turkey Sub - American or Swiss cheese, lettuce, onion, tomato & pickle, on a hoagie roll | $6 |
| BLT - Bacon, lettuce & tomato, on toasted bread | $5.50 |
| French Fries | $1.50 |
Burgers
All burgers include fries, onion rings or side salad for additional $1
Add bacon to any burger for additional $1 per slice
| | |
| --- | --- |
| Item | Price |
| 1/4 Burger - | $7.50 |
| 1/2 Burger - | $9.50 |
| Additional toppings (swiss or american cheese, bacon, mushrooms | $1 |
| Mushroom Swiss - All beef patty, Swiss cheese, grilled mushrooms on a toasted bun | $8 |
| The Western - All beef patty, Cheddar, hickory bacon, onion rings & BBQ sauce on a toasted bun | $8 |
| Grilled Chicken - Grilled chicken breast, American or Swiss cheese, lettuce, tomato & onion on a toasted bun | $8.50 |
| Chicken Bacon Ranch - Chicken strips, bacon, Swiss Cheese, onions, lettuce, tomato | $8 |
| Jalapeño Burger - All beef patty, Cheddar cheese, chipotle sauce, jalapeño & onion mix sticks on a toasted bun | $8.50 |
| Patty Melt - All beef patty, Swiss cheese, grilled onions on grilled sour dough | $7.50 |
Nibblers
| | |
| --- | --- |
| Item | Price |
| French Fries | $3 |
| Chili & Nacho Cheese Fries | $5.50 |
| Onion Rings | $4 |
| Mozzarella Sticks - w/marinara or ranch sauce | $5 |
| Mac & Gouda Cheese Bites | $5 |
| V's Jalapeño Onion Mix Sticks | $4 |
The Basics

| | |
| --- | --- |
| Item | Price |
| Chicken Tenders 4 piece | $5.75 |
| Chicken Tenders 8 piece | $9.25 |
| 6 Wings - Flavors: BBQ or Buffalo | $6.75 |
| 12 Wings - Flavors: BBQ or Buffalo | $11.25 |
| Hot Dog - All beef hot dog on a toasted bun (served with fries) | $6 |
| Cheese Quesadilla - Grilled flour tortilla stuffed w/cheese, side of sour cream and salsa | $4 |
| Quesadilla with choice of Grilled Chicken or Seasoned Ground Beef | $6 |
| Add french fries | $1.50 |
16-inch Pizzas
| | |
| --- | --- |
| Item | Price |
| Cheese | $16 |
| Pepperoni | $18 |
| Sausage | $19 |
| Hawaiian | $21 |
| Supreme | $24 |
| Meat Lover's | $23 |
| Veggie | $22 |
| Additional Toppings: bell pepper, onion, black olives, sausage, pepperoni, ham, chicken, bacon, tomatoes, mushrooms, jalapeños, extra cheese | $2 each |
146 Yuba St BLDG 146 Herlong, California 96113 United States
+1 (530) 827-4442
| | |
| --- | --- |
| Monday | Closed |
| Tuesday | Closed |
| Wednesday | Closed |
| Thursday | Closed |
| Friday | Closed |
| Saturday | Closed |
| Sunday | Closed |
Email Us
Programs using this location:
← Previous
1 (current)
Next →